On the day war broke out, few nations imagined they would soon be forced to conduct land warfare outside of Europe. As a result, when the war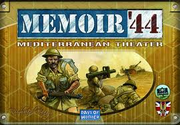 reached North Africa, both men and machines were ill-prepared for the harsh demands of a desert campaign.
But history is a testament to the caliber of leadership, ingenuity and resolve of those who fought under such harsh conditions. Thanks in part to its long-established presence in far-flung corners of the globe, no army would display these qualities better than the British Commonwealth Forces.

The Meditteranean Theatre expansion introduces the British Commonwealth Forces, as well as several new kinds of hex.