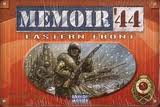 From the frozen shores of Lake Ladoga to the burning ruins of Stalingrad, relive some of the most intense battles of WWII,where entire Army groups disappeared faster than a single battalion on the beaches of Normandy.
This expansion follows Expansion one, the Terrain Pack. While the Terrain Pack focused on new terrain and rules, the Eastern Front expansion is devoted to the ferocious battles that pit the Axis and Soviet forces against each other.
Also included is a scenario drawn from the Russian-Finnish war, and an Overlord scenario of what turned out to be the largest tank battle in history: Kursk.
The Eastern Front expansion pack introduces the Soviet Union's Red Army into the game, as well as several new kinds of hex.